Our main phone line is currently out of service. If you need to reach the office please call one of our other lines at 729-9412 or 729-2452. We are working to get the issue resolved. Thank you.

Attention 8th Grade Families - There are two immunizations that are required for all 8th grade students. The Tdap and MCV. If your student has already completed these, please send verification to nurse Christy. I have included a picture from Missouri DHSS that explains all 23/24 Missouri School Immunization Requirements for further reference. More information can be found on their website. If you have any questions contact the office. Thank you.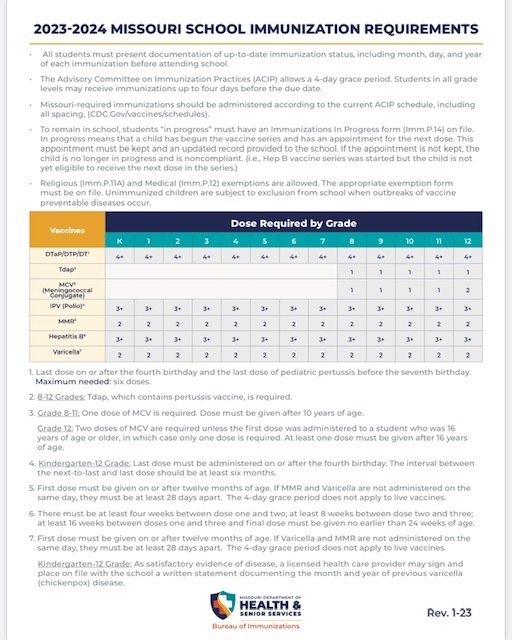 We had a great first day. Just a reminder for anyone picking up or dropping off their student. Please do not enter the main circle drive entrance when picking up your student after school. Enter the driveway just north of the school by the cemetery. Follow that driveway behind the parking lot where the teachers park and it loops you back in front of the school. This allows for more space for cars to be in line without creating a backup on highway F. This path is marked in red on the attached picture. Also, if you are in the front of the line or when you are up next to be in the front of the line, please pull all the way past the door to the end of the concrete walkway. This allows us to release 6-7 students to their cars at once and allows for the pickup process to run as efficiently and quickly as possible. If you will be picking up your student on a regular basis, let us know and we will provide you a tag to hang on your mirror or put on your dash with your student's name on it. This allows Mr. Roderman, Mr. Prugh or Mrs. Adamson to quickly identify who you are and who you are here to pickup and we can have your student at the door and ready as you pull up. Thank you for your cooperation and for helping our pickup to be as safe as possible.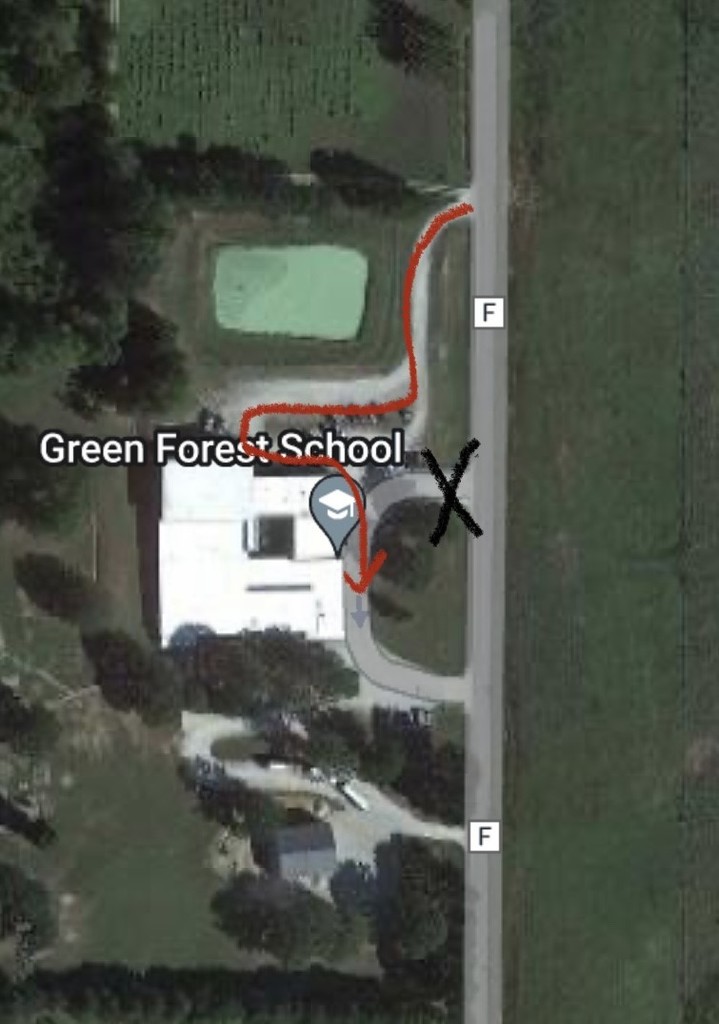 Fall Title Meeting and PTO meeting will be held Monday, August 28th at 5:00PM in the cafeteria. The 4th and 5th grade basketball parent meeting will be moved to Tuesday, August 29th at 5:00 PM in the gym to avoid conflict with the Title/PTO meeting.
Mustang Family: tomorrow is the first day of school! We can't wait to start building dreams with our students. Please remember that parents who transport students to school will say goodbye and drop their students off at the front door. Parents are not allowed to accompany their children into the building. The forecast is calling for high temperatures, so outdoor activities may be limited for the health and safety of our Mustang Family. Our busses are not equipped with air conditioning, so afternoon bus routes may be very warm. We will be making water available for students riding home on the bus. We are looking forward to seeing everyone tomorrow morning!
Basketball practice for 4th and 5th grade students begins this Friday, the 25th. Students will stay after school, and student athletes must be picked up at 5:00. Parent meeting will the following Monday, the 28th directly after practice at 5:00. Go Mustangs!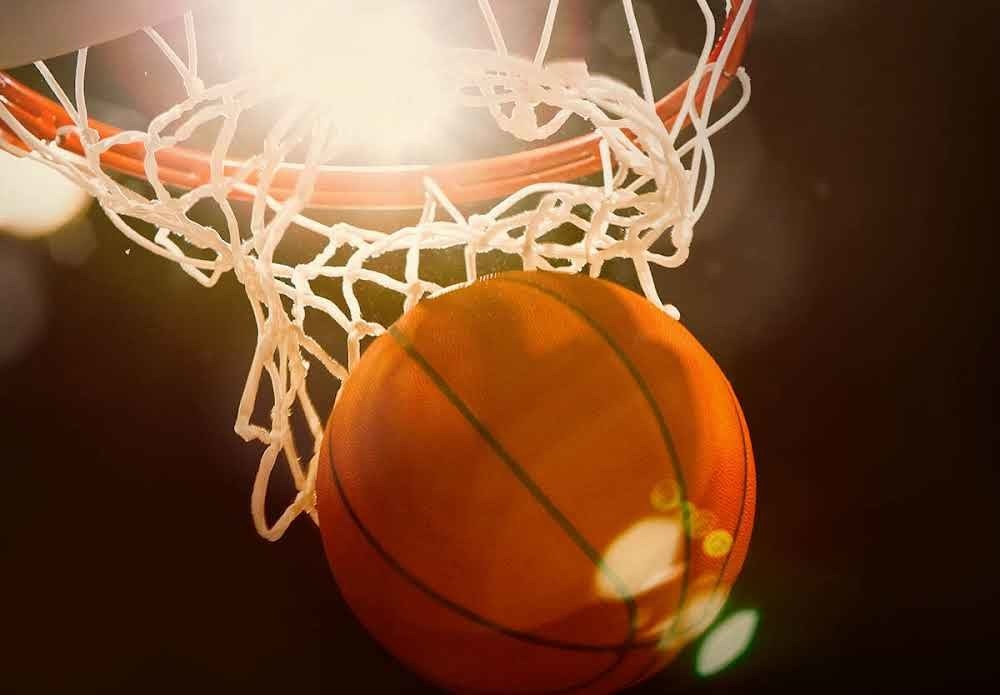 We hope you join us for open house tonight anytime between 5:30 PM and 7:30 PM. If you would like to bring lunch money to put into your students account, you may do so tonight. As a reminder, lunch this year is $2.70 and breakfast is $2.10 for students who do not qualify for free or reduced lunches. The reduced price is $0.30 for breakfast and $0.40 for lunch. See you tonight.
Beginning of the year reminders: Open House is next Monday, August 21st from 5:30-7:30 PM. School will start on Wednesday, August 23rd. If you haven't completed online registration, you may do so anytime before school starts or at Open House. We are looking forward to a magical year!

Any 7th or 8th Grader intending to play football as part of the Co-op in town, practice starts Monday, August 14th at 3:30 PM to 5:30 PM at the High School Tin Gym. Athletes need to bring tennis shoes, football cleats, water, and an updated physical. The parent meeting for football will be immediately after practice on Thursday the 17th.

Parents/Guardians of RETURNING students: The online registration for returning students opened today. You may log on to your TeacherEase account at teacherease.com or in the TeacherEase app. You will be required to complete the registration upon your first login. It is a quick and simple process that allows you to update and ensure that we have the correct contact information in the system for you and your child. We will have computers available at open house for anyone who has not completed the process by that time. If you have any questions about the process or your login information, email Mr. Prugh at
cprugh@gfr2.k12.mo.us
or call the office at 573-729-3902.

Green Forest registration will be August 7th and 8th from 9AM to 4PM. This is for new students only. Please bring proof of residency, shot records, and birth certificate (not required but recommended). Kindergarten students who pre-registered in the spring do not need to attend.

Community back to school event to provide students with supplies and other back to school needs. This is a great event for all families needing help with school supplies. Please share the information with anyone you know who may be interested.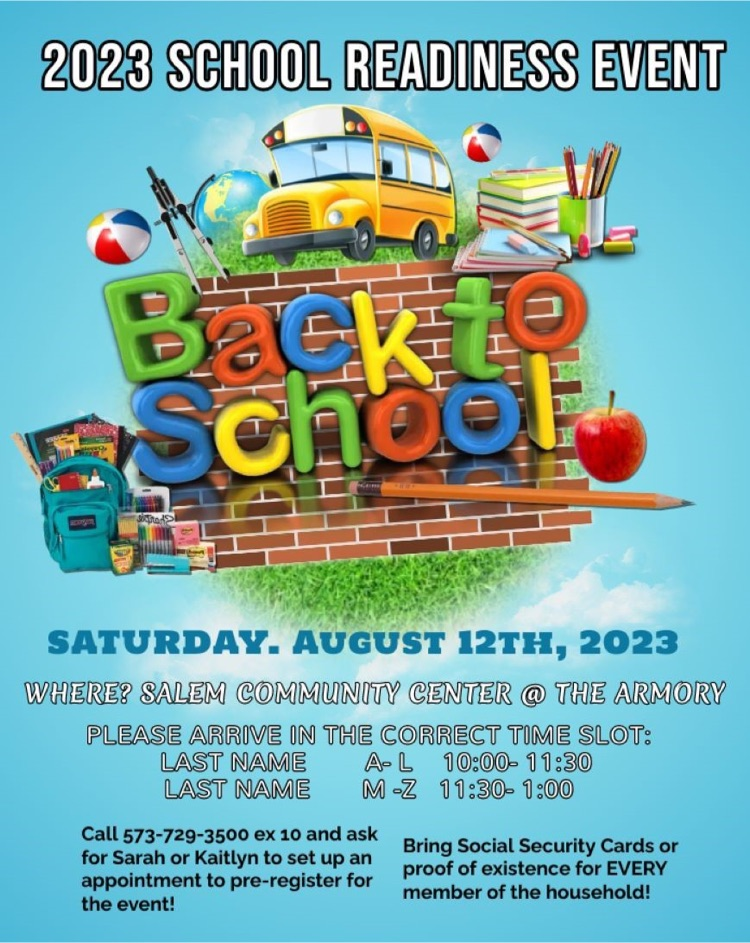 Join PTO for a back to school pool party! August 8, 6-8 PM!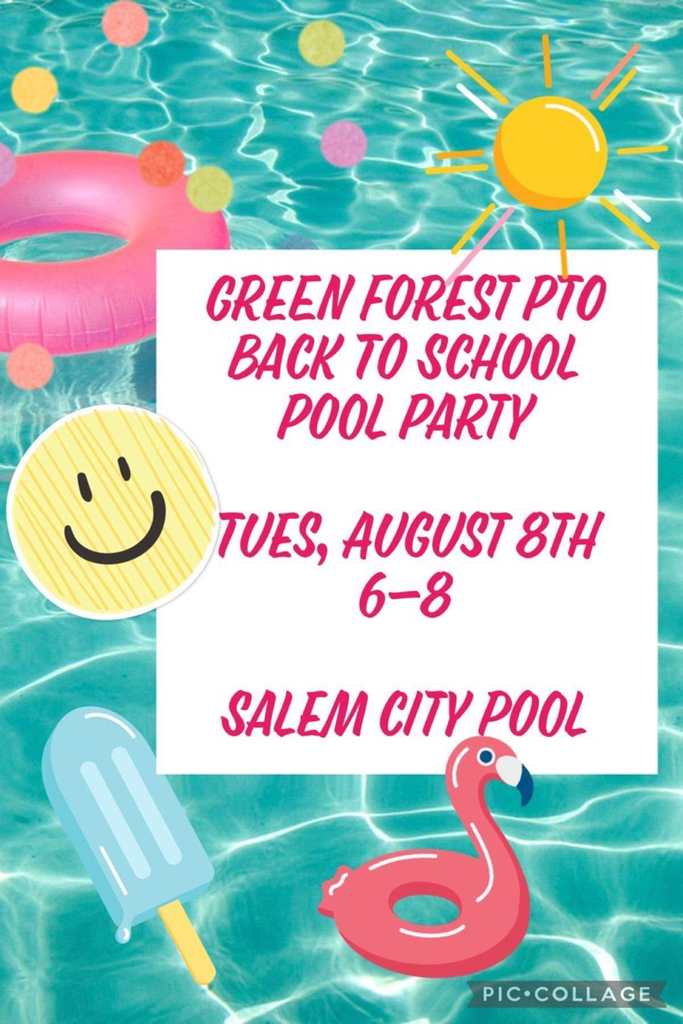 Final evening of basketball camp; last night was a blast. Go Mustangs!

Cheerleading camp is next week on July 10,11, and 12 from 2-5 right before basketball camp. This is for girls going into grades 6-8 and there is no cost.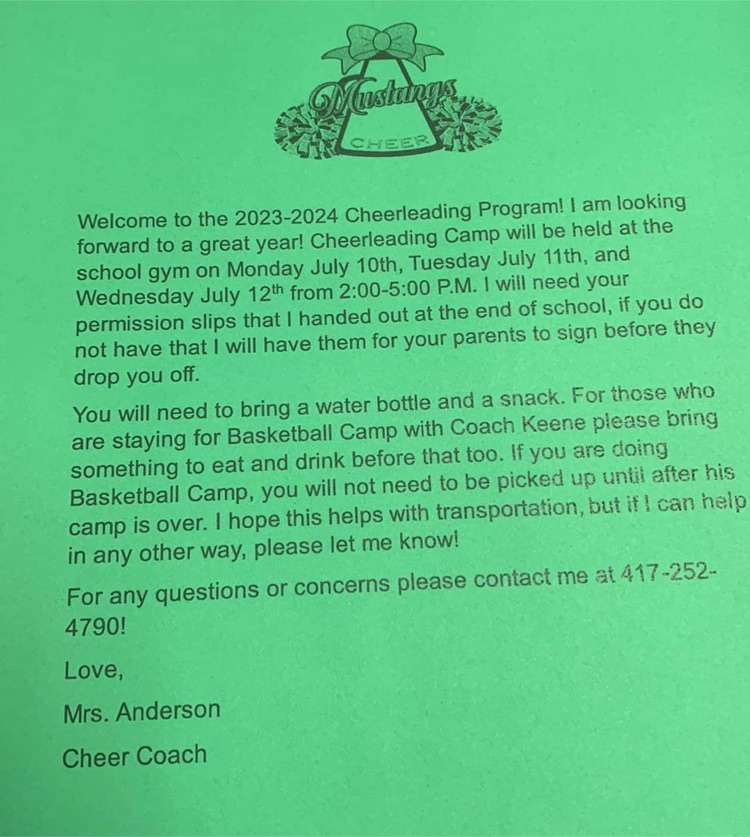 Basketball camp starts next week! Weekdays from 6:00pm-7:30 for two weeks totaling 10 day. We're excited to start working on our upcoming 2023 seasons!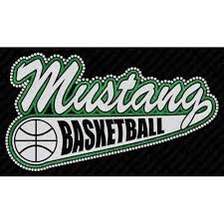 Have a wonderful summer, Mustangs! Thanks for a great year. We will see you in August!
Thank you to Green Forest PTO for all of the appreciation goodies this week!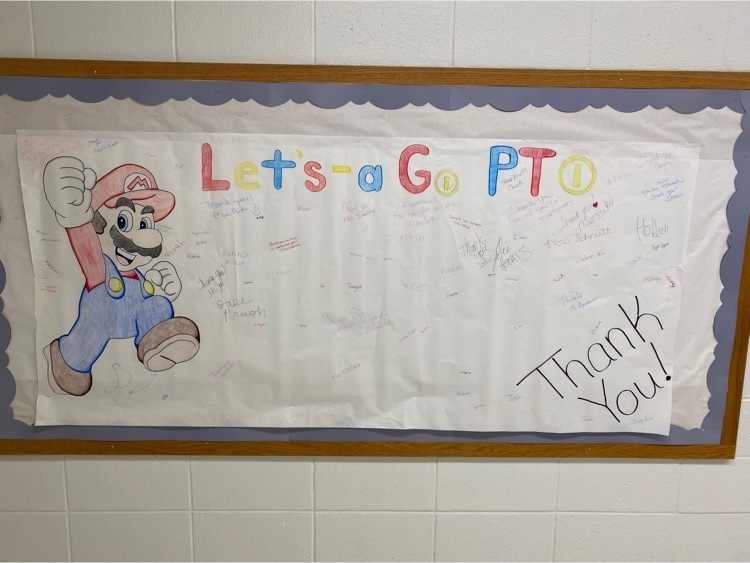 Congratulations to our Teacher of the Year, Kerri Konkel! Thank you to Rotary for the recognition!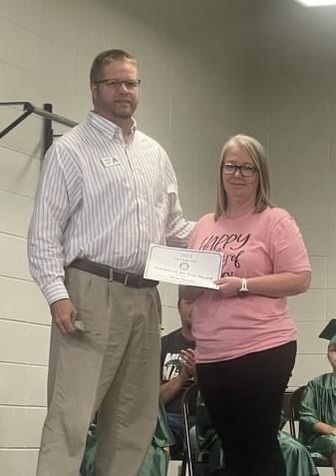 4th and 5th grade got to dissect owl pellets and analyzed the bones found to determine what kinds of animals the owl had eaten.